Decatur Georgia Movers
Decatur Ga, Clarkston, Winona Park
Agnes Scott and Emory Campus.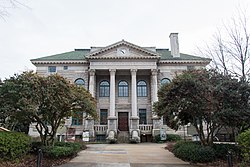 Moving customers, Decatur movers who are about to hire a Decatur Georgia moving company usually look for a trusted and reputable moving company to meet their household relocation needs. Moving companies can scream and holler about their moving services, but the consumer is more interested in what people thought about a moving company than the amount of advertising done. That's why one quiet and steady moving company gets so many moving engagements from previous customers and the referrals of friends and family.
Mark the Mover has been an Atlanta moving company for more than three decades. Starting in Virginia Highland, Mark and his friends using his pickup truck started moving neighbors and by word of mouth and built a moving company that has grown to be one of the largest locally owned and operated Atlanta moving companies. Atlanta movers have three large locally owned moving companies to choose from, but when you ask your co-workers and neighbors about their experience moving, you will likely here good reviews about Mark the Mover, and a favorite for Decatur movers.
We believe in internet Kharma. It may sound crazy, but if you offer reviews for other consumers, you get more out of reviews from other consumers. We think a lot of Mark the Mover customers must believe in internet Kharma too, because we are lucky that an awful lot of customers have left reviews for Mark the Mover and their pretty good too! Nobody can have a perfect record, especially when your relocated thousands of households in Decatur Georgia and all around Atlanta, but we think we are very fortunate to have a high rating. This is like free advertising for Mark the Mover. And rather than having to spend a lot of money on expensive advertising, we can concentrate on what we've always done and that is to provide the best moving services for our moving customers.
So if you are looking for moving companies near Decatur, Ga, we hope you will consider using Mark the Mover, for our well dressed and professional crews, big clean trucks, and our long reputation of excellent service.
Moving Your Decatur HouseholdAs Soon as Possible
Moving Company, Decatur movers: Hire a moving company. Mak the Mover is very busy at the end of the month and on weekends. Some people hire the lowest priced moving company, and they don't show up! Reputable services can get booked up and leave you stranded. Salvation Army or Thrift Store: Get rid of all you can, and keep track, it may be a tax deducation. Boxes: If you have a friend or neighbor who has moved recently, ask them if you can take some boxes off their hands. Otherwise, moving boxes should be heavy duty and uniform. Breakables and fragile items: Buy packing paper, it won't stain your china or stick to wooden things. Heavy Boxes: Sit boxes of heavy stuff on the floor so that lighter boxes can go on top. Reserve the Elevator: If you are moving in or out of a high-rise apartment, reserve the elevator.
A Few Days Before You Relocate
Double Check Your moving company reservation: If you have not received written confirmation or an e-mail, with precise details, be very nervous. Moving Day Loading the Truck: Your movers will start with some heavy furniture and put heavy stuff toward the front of the truck first, including washers, dryers and refrigerators, then pianos and anything big and heavy. Moving In: Do it once! take things straight to where they will go, if you have boxes for storage, the basement or closet, have them taken straight there. Don't just dump things off or they get in the way.
Moving Your Household There is more to moving your household than just relocating your dining room table for one house to another. First Things first
Transfer Prescriptions Safety Deposit Box Return Borrowed Items Return Library Books Return Rented Videos Shut Off Utilities – See our list of utilities Gym Membership: Transfer your gym membership. Get rid of your Plants: They are generally not worth moving.
Last Minute Things Dry Cleaning
Other Moving Tips
Carpets: Have the carpets cleaned in your new place. Appraise Valuables, check on insurance liabilities: Standard insurance plans cover general possessions up to a certain dollar amount and many homeowners policies may fail to cover anything broken in a relocation. Tax-Deductible Moving Expenses: Do some research with your accountant or an accountant who specializes in tax-deductible moving expenses, to see what is tax-deductible for your particular move. Moving Company Valuation: Moving Companies call their coverage for loss and breakage in transit 'valuation'