Decatur Ga, Clarkston, Winona Park
Agnes Scott and Emory Campus.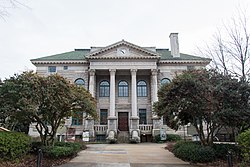 Moving customers who are about to hire a Decatur Georgia moving company usually look for a trusted and reputable moving company to meet their household relocation needs. Moving companies can scream and holler about their moving services, but the consumer is more interested in what people thought about a moving company than the amount of advertising done. That's why one quiet and steady moving company gets so many moving engagements from previous customers and the referrals of friends and family.
Mark the Mover has been an Atlanta moving company for more than three decades. Starting in Virginia Highland, Mark and his friends using his pickup truck started moving neighbors and by word of mouth built a moving company that has grown to be one of the largest locally owned and operated Atlanta moving companies. Atlanta movers have three large locally owned moving companies to choose from, but when you ask your co-workers and neighbors about their experience moving, you will likely here good reviews about Mark the Mover.
We believe in internet Kharma. It may sound crazy, but if you offer reviews for other consumers, you get more out of reviews from other consumers. We think a lot of Mark the Mover customers must believe in internet Kharma too, because we are lucky that an awful lot of customers have left reviews for Mark the Mover and their pretty good too! Nobody can have a perfect record, especially when your relocated thousands of households in Decatur Georgia and all around Atlanta, but we think we are very fortunate to have a high rating. This is like free advertising for Mark the Mover. And rather than having to spend a lot of money on expensive advertising, we can concentrate on what we've always done and that is to provide the best moving services for our moving customers.
So if you are looking for moving companies near Decatur, Ga, we hope you will consider using Mark the Mover, for our well dressed and professional crews, big clean trucks, and our long reputation of excellent service.