How much does local moving cost in Atlanta?
Atlanta households looking to hire movers often wonder how much money it involves. According to Google, local moving costs in Atlanta are as such;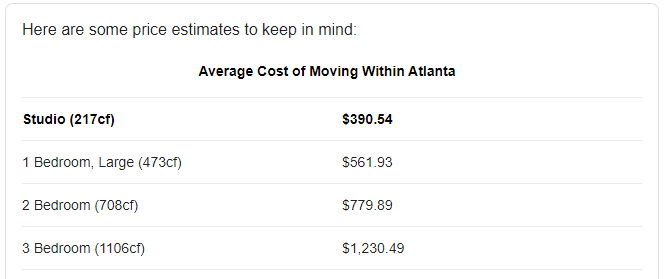 At Mark the Mover, Inc. would love to be your movers, but we don't cut corners to sell on price alone. We believe that the bad taste of over promising and under delivering can ruin a meal. We seek to explain what we will do, commit to a time, value the time of our customers and carefully and efficiently execute the process of a household relocation.
Our employees are committed professionals, with benefits, insurance, not contractors or day labor used by some budget operators. If you are the type of consumer to shop on price alone, we might not be your moving company. We say this, even though we hope some day that you are in a position to more need a quality and dependable moving company than just the cheapest price, headaches and all.
As a major household moving company in Atlanta, we are geared up towards larger moves, for the most part, than Google shows in their results. But to start with, for a lightly furnished studio apartment, needing two men, no elevator, the rate seems reasonable.
Some movers in this category might have no valuable furniture per se, i.e. they can pack everything of value in their trunk, and leave the bulk of their household furnishings to be handled by the least qualified of movers.
Note that these rates would not include any enhanced damage coverage, what we call valuation, which adds to the state and federally mandated transit coverage for common carriers of $60.00 per hundredweight. This might be adequate coverage for lumber book shelves and Ikea furniture.
At Mark the Mover, we are the Atlanta Movers for larger households, typically, while we do moves in the lower ranges above, we also do a lot of three, four and five bedrooms homes. Households filled with Ethan Allen furniture, grandfather clocks, artwork and marble table tops are more expensive to relocate than Google admits.
For more information on additional coverage available for Atlanta Movers when moving with Mark the Mover, see our valuation page.