Sandy Springs Moving Company

Mark the Mover has relocated residents of the Sandy Springs community for 30 years. Sandy Springs Movers, relocating households in Sandy Springs, Georgia, Mark the Mover provides packing, storage, crating and shipping – both local and long distance. Local moving and packing are the largest part of our Sandy Springs moving business, including full service household storage Sandy Springs.

Local Movers
Moving and Storage
Dependable Mover
Household goods storage
long distance moving
packing and moving
best movers!
Just north of Atlanta, Sandy Springs is the eighth-largest city in Georgia.
The Sandy Springs historic site still exists in the city boundaries.
Parks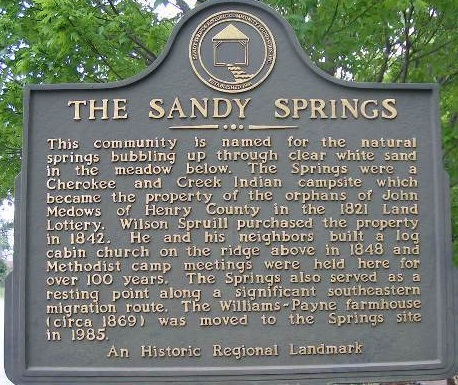 Sandy Springs Recreation, Parks, and Gardens
The City of Sandy Springs has more than a dozen green space, recreational and park areas between the city and the county offering almost 300 acres of park land. Recreational parks include tennis courts, indoor basketball and outdoor basketball courts and a gymnasium.
Hammond Park, 705 Hammond Drive, (404) 252-6310: Gymnasium, indoor basketball courts, lighted tennis, athletic field, covered picnic pavilions and a children's playground. Sandy Springs Tennis Center, 500 Abernathy Road, (404) 303-6182: 24 lighted tennis courts, clubhouse, locker rooms and a pro shop. Abernathy Park, 254 Johnson Ferry Road, (404) 303-6172: tennis courts, arts center, a children's playground, picnic tables. Big Trees Forest Preserve, 7645 Roswell Road, (770) 673-0111: 30 acre urban forest with 1.5 miles of walking trails. Morgan Falls Park, 450 Morgan Falls Place, (770) 396-0330: baseball fields, football field, picnic pavilions and children's playgrounds.
Sandy Springs Parks and Facilities
Sandy Springs has around 87,000 residents and is metro Atlanta's most upscale large traditional suburban community. The Police force consists of more than 150 Sandy Springs Law Enforcement professionals, and the fire department has more than 100 full time employees, supplemented by almost as many dedicated part time fire fighters, all Sandy Springs Fire Department emergency responders are Class B licensed.
In the 1970s the city of Atlanta attempted to annex Sandy Springs. Opposition mounted and the Committee for Sandy Springs was formed in 1975. June 21, 2005 residents voted 94% to 6% in favor of incorporation.
Sandy Springs is home to United Parcel Service and Newell Rubbermaid. Northside Hospital and Saint Joseph's Hospital are on the southern edge, and although Perimeter Mall is in adjacent DeKalb County, Perimeter Center has many high-rise buildings, including the 570-foot "king and queen" towers.
Legend has it that the sandy spring has never run dry. It is found at the Sandy Springs Historic Site. The Creek Indians would stop at the spring on their journey to Atlanta. To this day, it produces 10 gallons of water per minute.
Sandy Springs Georgia
Sandy Springs, Georgia is on the northern end of Atlanta, and with a population approaching 100,000 it is approximately one fourth the population of Atlanta Ga. Sometimes referred to as a part of north Fulton County, by adding up the populations of Alpharetta, Roswell GA and Johns Creek with Sandy Springs you can create a population center with more than three fourths the total population of the City of Atlanta. Many are surprised to learn that the population of the City of Atlanta is less than 500,000 and in fact what we call Atlanta is really often the greater Atlanta metropolitan district. The Atlanta Metropolitan Statistical Area is the ninth largest such designation in the United States, after the three big boys, New York, Chicago and Los Angeles. Then there are seven large metro areas including Houston and Dallas, Philadelphia and Washington DC, Miami Florida and Boston Massachusetts.
The Atlanta, Dallas, Houston and Los Angeles districts all cover large geographical areas. If we were to combine the northeastern districts into a single district, more than 36 million people would make up the New York-Philadelphia / Boston Washington district. There are of course nearly 500 miles between Boston to the North and Washington DC to the south, and even a large MSA like Dallas / Fort Worth is only slightly more than 100 miles in breadth. A large factor in the designation of a MSA is the propagation of media outlets, like television and radio. TV stations are generally limited to circles with a diameter of less than 100 miles, even less in mountainess terrain. Radio markets are larger, powerful radio stations like New York's WABC and Chicago's WLS Radio cover larger circles, especially at night when some listeners report getting radio programs from more than 500 miles distance from the transmitting tower for AM radio. Then again, don't forget to use Sandy Springs Movers.
Sandy Springs Ga
AM Radio in Atlanta is anchored primarily by two stations, 640 AM WGST and 750 AM WSB, home of the mouth of the South, aka @talkmaster. But Atlanta is not nearly the AM radio town as compared to New York or Chicago, but Atlanta is the home to Ted Turner's creation, the Turner Broadcasting System or TBS and CNN, the Cable News Network. While CNN is in an increasingly competitve cable news field, the TBS influences on the Atlanta area have made Atlanta a powerful media force including cartoon media, film and movie history and original programming from the TBS group. TBS and it's supporters create an abundance of talent and resources in the graphical, video and internet businesses that help Atlanta thrive in the digital age.
Alpharetta Georgia has evolved into the Silicon Valley of the Southeast, and Ga 400 is the technology corridor. Fed by the demand of the media savvy Atlanta market, the Ga 400 corridor has seen the incubation of multiple digital age ventures that add to the Atlanta MSA economy. Atlanta is well known for TBS, CNN and Home Depot, but the GA 400 corridor in the 'Perimeter' area, spot on the Sandy Springs and Dunwoody areas has a major business area featuring the King and Queen buildings, known as Concourse IV & V, at fifty stories, the tallest suburban office buildings in the country. The Sandy Springs area is home to corporate headquarters for major corporations like UPS, Rubbermaid and Remington Grooming Products.
Naming Sandy Springs
Sandy Springs was named after a spring in the area that still provides a steady supply of clean water bubbling up from a sandy shoal. It isn't a gushing raging river the size of the Amazon or anything, but if you need to see the Sandy Spring, just go to the Sandy Springs Historic Site & Museum at the Heritage Park recreation area, an amazing four acre walking and relaxing space at 6110 Bluestone Road, Sandy Springs, GA 30328 or visit www.heritagesandysprings.org – the freshwater artesian spring is recorded back hundreds of years, and perhaps to the 5th century A.D. in Indian lore. Some say the spring was the intersection of three Indian trails, two being the Hightower trail and the Shallowford trail.
Sandy Springs incorporated in 2005 and now have their own police, fire rescue, EMS and 911 systems. Public Works currently oversees street maintenance, storm water and the Parks and Recreation offers several green space options managed by the new city. Go to www.sandyspringsga.org for more information.
Local Household Moving
Local household moving and long-distance relocation are two distinct types of moves with unique challenges and considerations.
Local household moving usually refers to a move within the same city or metropolitan area. The main difference between a local move and a long-distance move is the distance and time it takes to complete the move. Typically, a local move involves packing, loading, and transporting household items to a new residence within the same day. In most cases, local moves are charged based on an hourly rate and the number of movers required to complete the job.
On the other hand, long-distance relocation involves moving across state lines or more than 100 miles away from the current residence. A long-distance move can be a more complicated process as it requires more planning and preparation. This type of move involves more time, effort, and resources to ensure that everything is packed and transported safely. Additionally, a long-distance move may require additional services such as packing, loading, unloading, and unpacking, which can be more expensive than a local move. Long-distance move paperwork is determined by the weight of the household items being moved and the distance between the origin and destination.
More households prefer Sandy Springs Movers Mark the Mover, Inc.