Moving Company for Marietta Ga
Movers Marietta Ga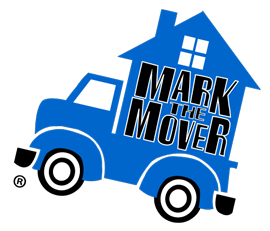 With 33 years of moving company experience, Marietta movers Mark the Mover is south of Marietta Georgia down Old Atlanta Road to Marietta Blvd and Carrol Drive. With reviews at Yelp and Home Reports, household relocation customers in Marietta have confidence that choosing Mark the Mover for their moving and packing is a safe choice.
Local Movers and Packers
Moving and Storage Company
Residential Moving
Household goods packing and moving
Full Service Household Goods Storage
The best moving crews
Most recommended
Atlanta Moving and Storage Company
Marietta Georgia
As of the 2000 census, the city of Marietta had a total population of 58,748, one of metro Atlanta´s largest suburbs. Homes had been built near the Cherokee town of Kennesaw by the year 1824. In 1837 the Georgia Gazetteer said Marietta was named for the wife of US Senator and Supreme Court Judge, Thomas Willis Cobb. (Thus Cobb County)
Marietta, legally recognized by the Georgia state legislature in 1834, has a square with a small courthouse. Marietta became home the Western and Atlantic Railroad.
Three fires during the 1850s destroyed much of the city. The Georgia Military Institute was built in 1851. Marietta's Oakton residence was occupied in 1864 by Major General Lorings headquarters during the Battle of Kennesaw Mountain. In April of 1862, Union scout James Andrews came down to Marietta and spent the night in the Fletcher House hotel
Tourist attractions in Marietta include the Cobb Landmarks & Historical Society, Drexel's Fine Arts & Collectibles, African American Sports Museum of Atlanta, Marietta Museum of History, Cobb County Youth Museum, Marietta Aeronautical Museum and Education Center, East Cobb Stables.
Marietta became home for the Bell Bomber factory during World War II. The bomber factory built 669 B-29 used by the American forces and employed 29,000 men and women at its peak shortly before the end of the war. Lockheed Corporation in 1951 took over operations after being abandoned by Bell. Now known as Lockheed-Martin, it is one of the major employers in the county and state.
Marietta was chartered by recognition of the Georgia state assembly on December 19, 1834. Thus in 2009 Marietta was 175 years old! Named for Mary Cobb who was known by her friends as 'Marietta', she was an active Georgian and wife of U.S. Supreme Court Judge Thomas Cobb. Early growth was fueled by the railroads and Marietta became the home base for the Western and Atlantic Railroad. Between Atlanta and Kennesaw Georgia, the civil war found Marietta near the Battle of Kennesaw Mountain in 1864.
Marietta was designed with a cute little square and retains the pedestrian meeting place as a center of activities. Now more often called a city than a town, Marietta is the home of the Cobb County Courthouse.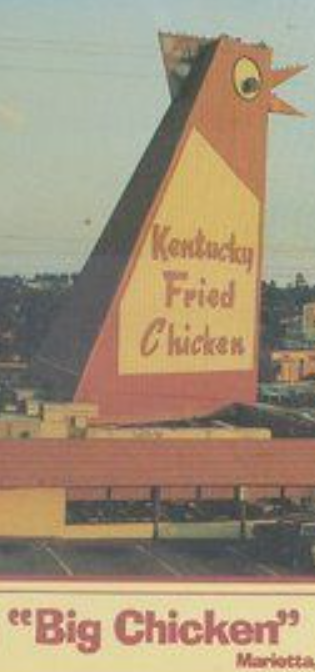 The Big Chicken is a KFC restaurant in Marietta. It is a landmark referred to as the 'Big Chicken' due to its distinctive 60 foot high rhomboid shaped chicken signage. At the intersection of Cobb Parkway and Roswell Road, the Big Chicken was built in the 1950's but the signature chicken facade was not added until 1964. It was not a KFC until the 1970's. The Big Chicken sign, over five stories tall, was designed by a Georgia Tech architecture student as a marketing gimmick by the original restaurant owners, when it was called Johnny Reb's. KFC rebuilt the landmark after damaging winds in 1996.
Marietta Ga is also home to the Confederate Cemetery, or also known as the Marietta Confederate Cemetery. Hard feelings among Union politicians led the Confederate Cemetery to be neglected the same federal funding used to maintain the National Cemetery less than a mile away.
The Marietta National Cemetery came about with the sympathies of Marietta Unionist Innkeeper Henry Cole. Cole donated the land and proposed that the dead from the Northern and Southern Armies be buried side by side. But snots from the federal government vetoed the gesture. Still, stunning examples of the sacrifices made by Americans in the war withstand, 405 dead from Wisconsin are buried amidst a memorial of the Wisconsin State Badger in granite.
Marietta is a suburb of Atlanta north and east of the city, Smyrna Georgia and the Vinings Atlanta district. With a city population of more than 60,000. major private employers in the area include Home Depot, Publix Supermarkets and IBM. Quasi-private employers include Lockheed Martin and Wellpoint Health, but the largest area employer is the Cobb County Public School System.
Marietta is also north and west of the Chattahoochie River, and mills along its left flank were probably centers of early commerce, but Marietta got its real start in the railroad era, when despite political wrangling, the Western and Atlantic Railroad settled in Marietta. Marietta was devastated by three major fires in the 1850's prior to the War Between the States. South of the Kennesaw Mountain skirmishes, at which the North prevailed, Marietta was set afire again by General Sherman after the famous battle. Almost the entire town was torched, except for the Marietta Hotel. After the war, suspicious that the owner of the Marietta Hotel was a spy for the North, that was burned to the ground by the townspeople, the story goes.
Marietta is home to the Marietta Confederate Cemetery where 3,000 Americans who fought for the South and died in the War Between the States are buried. Nearby is the Marietta National Cemetery where around 10,000 Union troops are interred. The cemetery was founded in 1866 as a final resting place for Northern troops killed in the "March to the Sea" between November 1864 and December 21, 1864 in Savannah. Another 8,000 Americans who fought in the Spanish-American War, World War I and II, Korea and Vietnam are also buried there, but the cemetery was declared full up sometime between 1998 and 2006 and is closed to new burials.
When the land for the cemetery was dedicated by one Henry Cole, his idea was that Union and Confederate troops should be buried together as a form of healing and to foster that bygones be bygones. This was not to be, any Confederate soldiers found buried in the National Cemetery either fought for the Union in subsequent wars or was mistaken for a Union Soldier. Casualties of war buried in the Confederate Cemetery were like-wise all on the side of the South, unless a mistake was made. Both sides, even after the end of the war, were committed to this.
Marietta and Cobb County are still solid members and representatives of the deep south, but the vibrant and cosmopolitan city harbors today much less of the ill-will toward Yankees today. Very little in fact, with the Dobbins Reserve Air Force Base and the steady stream of youngsters and career Air Force members that live part of their lives near Marietta we have even been known to tolerate people from California. And you would hardly notice our amusement.
Cobb County, Marietta households have used Mark the Mover for their moving and household relocation needs for 33 years.
Marietta, Georgia was incorporated as a city on December 19, 1834. The incorporation was granted by the Georgia General Assembly, which passed an act providing for the establishment of the city government. This act created the city limits and established the boundaries for the new municipality.
The city of Marietta was named after Mary Moore, the wife of Georgia Supreme Court Judge Thomas Willis Cobb. The town was originally called Marietta in honor of Mary Cobb, but the spelling was changed to Marietta to reflect the way it was pronounced by locals.
After the incorporation, the first city government was established with a mayor and six aldermen. The first mayor of Marietta was John H. Glover. The city government was responsible for managing the affairs of the city, including the construction of public buildings, maintenance of streets, and the provision of public services.
Since its incorporation, Marietta has grown significantly and is now one of the largest cities in Georgia. Today, Marietta is known for its historic downtown area, which features a variety of shops, restaurants, and cultural attractions, as well as its strong sense of community and rich history.
Thomas Willis Cobb
Thomas Willis Cobb was a prominent figure in Georgia's history during the late 18th and early 19th centuries. He was born in 1784 in Columbia County, Georgia, and went on to become a successful lawyer, politician, and judge.
Cobb served in the Georgia House of Representatives from 1808 to 1812, and then in the Georgia Senate from 1819 to 1822. He also served in the United States House of Representatives from 1823 to 1827.
In 1835, Cobb was appointed as a justice on the Georgia Supreme Court, where he served until 1851. During his tenure on the court, Cobb authored a number of important opinions, including several on the subject of slavery.
In addition to his political and judicial work, Cobb was also a successful planter and owned several plantations in Georgia. He was a strong supporter of slavery and played an active role in promoting and defending the institution.
Cobb died in 1835, just one year after the city of Marietta, Georgia was incorporated and named in honor of his wife, Mary Moore Cobb. His legacy continues to be remembered in Georgia's history, particularly for his contributions to the legal and political landscape of the state.
Cobb County
Cobb County, Georgia was incorporated on December 3, 1832. The county was named after Thomas Willis Cobb, a prominent Georgia politician and jurist who served in the state legislature, the U.S. House of Representatives, and the Georgia Supreme Court.
At the time of its incorporation, Cobb County encompassed a much larger area than it does today, including parts of present-day Fulton, Cherokee, and Bartow counties. Over the years, the county's borders were adjusted as other counties were created and new land was acquired.
Today, Cobb County is one of the largest and most populous counties in Georgia. Its county seat is Marietta, which is also one of the largest cities in the state. The county is known for its strong economy, excellent schools, and numerous parks and recreational opportunities.
Barrett Parkway
Barrett Parkway is located in the northwest suburbs of Atlanta, Georgia, in Cobb County. The road runs in an east-west direction and connects several major thoroughfares in the area, including Interstate 75, U.S. Highway 41, and Cobb Parkway (U.S. Highway 41 Alternate).
Barrett Parkway is a major commercial corridor in the area, with numerous retail stores, restaurants, and other businesses located along its length. Some notable landmarks along Barrett Parkway include the Town Center at Cobb shopping mall, Kennesaw State University's Kennesaw campus, and the Cobb County International Airport-McCollum Field.
Moving to Cobb County
People are moving to Cobb County, Georgia. According to data from the U.S. Census Bureau, the county's population has been steadily increasing over the past several years. As of 2020, the estimated population of Cobb County was approximately 760,000, making it one of the largest and most populous counties in Georgia.
There are several factors that contribute to the county's popularity among newcomers. For one, Cobb County is home to a number of highly regarded schools and educational institutions, including Kennesaw State University and the Cobb County School District, which is one of the largest and most diverse school districts in the state.
In addition, Cobb County offers a high quality of life, with excellent public amenities, recreational opportunities, and a strong economy. The county has a thriving job market, with major employers including the Cobb County School District, Wellstar Health System, and Lockheed Martin Aeronautics Company.
Packing Linens and Dry Goods
Packing linens, bedding, and dry goods for a move requires a few simple steps to ensure Marietta movers they arrive safely at your new home:
Gather supplies: You'll need boxes of various sizes, packing paper, packing tape, and a marker for labeling boxes.
Wash everything: Before packing, make sure all linens, bedding, and dry goods are clean and dry. This will help prevent mold, mildew, or other damage during transit.
Pack linens and bedding: Fold and pack linens and bedding in medium-sized boxes. Use packing paper to fill any empty spaces to prevent shifting during transit. Marietta movers should label each box clearly with its contents and the room it belongs to.
Pillows and comforters can be packed in large boxes, because they are light and fluffy. Many Linens and towels can be packed in medium boxes, but be careful, dining linens and linen towels can get heavy and might require small moving boxes.
Kitchen and pantry moving and relocating
Pack dishes and glassware: Wrap dishes and glassware individually in packing paper or bubble wrap and place them in small to medium-sized boxes. Make sure to label each box as "fragile" and the room it belongs to.
Pack small appliances: Wrap small appliances such as blenders or toasters in packing paper or bubble wrap and place them in medium-sized boxes. Again, label each box with its contents and the room it belongs to.
Pack pantry items: Pack pantry items such as dry goods, canned goods, and spices in small to medium-sized boxes. Make sure to wrap any breakable items in packing paper or bubble wrap. Label each box clearly with its contents and the room it belongs to. Also, try to use up or donate perishable items before moving day.
Pack pots and pans: Stack pots and pans inside one another and wrap them with packing paper or bubble wrap. Place them in medium-sized boxes and label them with their contents and the room they belong to.
Seal boxes securely: Use packing tape to seal each box securely, making sure to reinforce the bottom with extra tape.
Load boxes carefully: When loading the boxes into the moving truck or vehicle, place heavier boxes on the bottom and lighter boxes on top to prevent crushing.