Movers for Berkeley Park, Atlanta GA
Movers looking for a moving company near Berkeley Park in Atlanta, Ga call on Mark the Mover because we are a dependable and reliable moving and storage company for Berkeley Park movers.
Sometimes considered part of Underwood Hills, Berkeley Park was established in 1921.
In 1996, Berkeley Park was again recognized by the City of Atlanta as an official neighborhood. Berkeley Park is bounded by I-75 to the northeast, Northside Drive on the east, Howell Mill Road to the west and extends south to 17th Street. Home Park is south of Berkeley Park, Atlantic Station is east on the south edge of Berkeley Park, Blandtown is west on the south edge of Berkeley Park and Underwood Hills is northwest of Berkeley Park. Berkeley Park has a website located at www.berkeleypark.org Berkeley Park is home to Octane Coffee (with free wi-fi) at Howell Mill and Marietta Street, and moving north on Howell Mill Berkeley Park contains a Taqueria del Sol, a Figo and upon reaching I-75 Berkeley Park contains a Walmart with rare covered parking, a real luxury in the hot summer sun.
Although we are still looking for the roots of the name Berkeley Park, we do know that residents first constructed homes out of lumber reclaimed from the barracks of the Confederate prison, Camp Oglethorpe. Much of the area was covered by a farm owned by Jesse Wood. Mr. Wood was survived by children, one being Elias Hinton Wood who inherited the land that is currently Berkeley Park. Elias was pastor at Peachtree Road Methodist Church in the early 1900s. He developed the area, naming streets after Wood's family members and friends. Tallulah was his wife, Leona the oldest daughter, Verna his niece, and the Holmes and the Antones were fellow Methodist ministers and friends of the family. On the south end of Berkeley Park bordering Blandtown were cow pastures and stockyards near the railroad spurs that stretched from Mitchell Street near Five Points to Powder Springs and hence from Savannah to Memphis, bordered on the north by what is now Huff Road. The Atlanta Water Works at 14th and Hemphill were constructed in the 1890's, and the reservoir was a neighborhood picnic spot for decades. In the 1920's Eretus Rivers continued development along the Howell Mill corridor from Chattahoochee Street to Collier Road, roughly 1/2 mile north and south of I-75 today. By the roaring 20's, Berkeley Park residents could ride the Collier Road streetcar to Peachtree Road streetcar lines to commute to Atlanta downtown for work.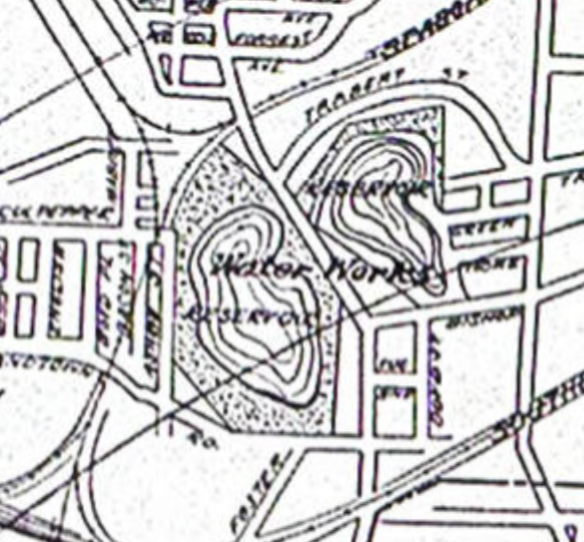 In the above map, Northside Drive is on the right. Trabert Ave. went all the way through from Northside Drive to Howell Mill, and a little north of that, old Chattahoochee began north from a much different spot than today's path.
As for the name Berkeley, we do know that John and William Berkeley were co-owners of the Province of Carolina, appointed early in the 17th century by King Charles I of England as Lords Proprieters. Eight generations later, the vast region became part of the Charleston District in 1769. John and William Berkeley were assigned by the king with the task of farming, mining and trapping, for their own enrichment and to pay homage in taxes to the homeland, England. "Few battlefields of the war have been strewn so thickly with dead and wounded as they lay that evening around Collier's Mill." (Union Major Gen. J.D. Cox.) Civil War Plaque, Howell Mill Rd, approx 1400′ south of I-75 on Howell Mill Road. A Kroger Shopping Plaza, the Plaque can be seen between Ace Hardware and Arby's in the front lawn of Arby's. Thinking that this is the outer defense line marker, going to do some research.
---
Outer Defensive Line News of Federal crossings of the Chattahooce July 17,1864 prompted the building of a defense line N & E of Atlanta, by the forces of Gen. Hood, C.S.A., who assumed command July 18. The E. – W. line crossed Howell Mill Rd. here. Gen. A.P. Stewart's A.C. (C) occupied thi sector; French's div. W. (army left flank, Casey's Hill); Walthall's, at center; Loring's, to the eastward. July 20. After line adjustment, Walthall's div., astride Howell Mill Rd., moved N. (about 4 p.m.) to attack the Federal 20th A.C.; Reynold's brigade was W. of the rd., O'Neal's E. of it. Loring's div (E. of O'Neal) also attacked. French's div. (C) was held in reserve, facing the 14th A.C. (F). (GHM 060-50 White St at Howell Mill Rd, Atlanta)